Brent Kelly CFP®, DipFP, GAICD
Financial Adviser and Principal
Authorised Representative of Your Financial Guide Pty Ltd
Brent is a Cairns local who has a strong belief in family, community and true financial planning. He has a wealth of experience, having spent over 20 years in the Financial Services Industry and been a Financial Adviser since 1996. Brent spent 11 years as a Financial Adviser with the Westpac Bank and moved into private practice with Magnitude in 2007.
Brent specialises in providing holistic financial advice focused on achieving his clients' financial goals and dreams. He provides advice concerning investment, wealth creation, wealth preservation, personal insurance and retirement planning for a wide range of clientele. Brent's main areas of expertise are centred on businesses, Self-Managed Super Funds, redundancy advice and retirement planning. Brent is a Certified Financial Planner and holds a Diploma of Financial Planning.
He is a member of the Financial Planning Association of Australia Limited and Kelly Wealth Services is a FPA Professional Practice.  He is also a member of the Australian Institute of Company Directors and Australian Institute of Management.

Brent Cerutti CFP® BMgt, AdvDipFP, DipFP
Financial Adviser and Director
Authorised Representative of Your Financial Guide Pty Ltd

Brent made the move from Ingham to Cairns in 2000 after completing a Bachelor of Management through James Cook University, Townsville. With over 14 years' experience in the Financial Services Industry, including 6 years providing direct equities advice in a stockbroking role, Brent has a breadth of knowledge to help his clients make the right financial choices suitable to their circumstances.
He specialises in investments, wealth management, direct equities, superannuation, Self-Managed Super Funds, wealth protection, personal insurance and retirement planning and aged care advice.  In addition to his degree, Brent has completed an Advanced Diploma of Financial Services and is an ASX accredited equities and derivatives adviser. He is also an SMSF accredited adviser and holds the Certified Financial Planner® designation with the Financial Planning Association.  More recently, Brent has also become an accredited Aged Care Professional™ in order to assist clients and their families, with the often stressful financial decisions required around transitioning into Aged Care.

Bronson Hills DipFP, GradCertFP
Associate Adviser
Authorised Representative of Your Financial Guide Pty Ltd

Bronson originally joined the finance industry offering bookkeeping services to clients in Mission Beach prior to moving to Cairns in 2015 and joining the team at Kelly Wealth Services where he found his love for financial planning. While obtaining his Diploma of Financial Planning and his Graduate certificate of Financial Planning from university he held a position in Paraplanning for 2 years before commencing his career in financial planning. He has chosen to focus his career on financial planning in order to provide holistic advice in a broad range of areas to his clients. he has gained extensive knowledge through working alongside financial advisers developing complex and comprehensive strategies for their clients while he was working as a paraplanner
Bronson has over 6 years' experience within the financial services industry providing bookkeeping services to local business in the far north.
He has completed a Certificate 3 and 4 in Financial Services (Accounting) in 2012, and recently completed a Post Graduate Certificate in Financial Planning at Deakin University in 2018 and his Diploma of Financial Planning. He is continuing to advance his knowledge in the industry and hopes to attain his Post Graduate Diploma in Financial Planning by 2019.
He specialises in investments, wealth management, direct equities, superannuation, wealth protection, personal insurance and retirement planning.  In addition to his Graduate Certificate, Bronson has completed an Diploma of Financial Planning.
He brings with him enthusiasm and initiative along with valuable bookkeeping and accounting skills.  He is keen to continue increasing his knowledge of the finance industry with Kelly Wealth.
Jasmine Cerutti CPA® BCom
Accounts Manager/ Administrator 

Jasmine is a Cairns born and bred local and completed her Bachelor of Commerce degree though James Cook University, Cairns in 1999 and subsequently went on to complete her Certified Practising Accountant qualification through CPA Australia.
Jasmine has held accounting positions in various fields and industries in both public practise and private enterprise during her career as an Accountant. This has included PriceWaterhouse Coopers and local tourism icon Raging Thunder Adventures.
Jasmine now works behind the scenes in a administrative and accounting capacity for the practice while juggling the demands of three primary school age children. She enjoys getting away with the family, bushwalking and going to the gym when possible.
Ian Fraser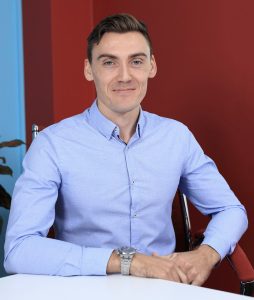 Client Services

Ian is our new client services officer, he recently joined our lovely practice in mid 2018 and has been learning about the finance industry ever since. He brings with him a vast knowledge of lending from his previous position in HSBC in Hong Kong, as well as enthusiasm and a nice "English sounding" voice on the phone.
Ian has completed his Bachelor of business (financial management) in 2018 and is aspiring to obtain his Pilots license. Ian is in charge of implementing advice and plays an integral role in assisting the financial advisers and para-planning team.
Haydn van Nek
 Reception
Haydn is a country boy at heart with a huge aspiration to travel. He spent his younger, teenage years growing up in rural QLD riding horses and water-skiing in the local dam. Haydn has over 6 years' in the finance industry where he primarily spent his time with NAB writing home loans and dealing with general insurances and loan protection. He also runs a small hobby business selling homemade soy wax candles which consumes most of his weekends attending local markets.
Haydn has completed his Certificate 3 in financial services and is aspiring to continue developing his knowledge and experience in the industry in order to determine what sort of career path he wishes to take. Whether it be further study to eventually become a Financial Adviser or to grow his soy wax candle business.